Digital Curation with Omeka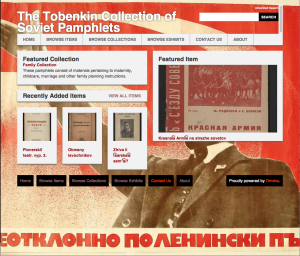 I created a digital library for the UT Austin's Tobenkin Collection of Soviet Pamphlets using the web curation platform Omeka. I customized the CMS, harvested and managed the metadata, and created a web exhibit that would enhance the online presence of this unique collection.
Documentation was also created for the library's future usage on how to use the platform and create a digital library.
LBJ Interactive Daily Diary
As a part of a larger digitization project, I contributed to the LBJ Library's Interactive Daily Diary project. I transcribed presidential phone calls, synched speeches with official transcripts, and compiled materials that would work with their current GLIFOS interface to provide a unique experience for students and other historical researchers.
President Johnson signs the Voting Rights Act
Venue Menu
Venue Menu was a database of live music venues in Austin. With a team of information professionals, I assembled and researched venues,designed some elements with Photoshop, and coded the pages with PHP, CSS/HTML, and MYSQL.
A Spirit Guide to Austin
A Spirit Guide to Austin is a prototype for a database and digital library built through a customized WordPress interface. Users would be able to find locations that fit their needs through multiple search fields, tag clouds, and a Google Map that displays all of the sites. Tips about new haunted places would also be able to submitted to administrators and an augmented reality mobile app that reveals haunted places around you would expand the functionality of the database.
Click the thumbnails below to check out a few sample pages.